Psinthos, Rhodes, Dodecanese,South Aegean
Location:
At the center of the village Psinthos of Rhodes, next to the church
Region > Prefecture:
South Aegean
Dodecanese
Municipality > Town:
City of Rhodes
• Psinthos
Altitude:
Elevation ≈ 275 m&nbsp
(Relative Height≈0 m)
| | | |
| --- | --- | --- |
| Time of Construction | | Origin |
| perhaps 12th -13th cent | | Late-BYZANTINE |
| Castle Type | | Condition |
| Walls | | In Ruins |
Vestiges of a castle built in the center of the village of Psinthos. The visible ruins of a two-storey building with ground floor vaults were part of a larger defensive complex whose building material -and possibly another part- have been incorporated into the structure of the neighbouring parish church a few yards to the north.

Although the present state of the ruins and the lack of systematic research cannot allow further discussion, it is probable that the castle's function was the protection and control of economic activity in a particularly fertile agricultural area.
The text above is from the webpage ΟΔΥΣΣΕΥΣ of the Greek Ministry of Culture. The classification as castle by the Ministry is the sole reason that this ruined building is included in Kastrologos.
The presence of the castle is not recorded in documents from the period of the Knights of Rhodes (14-16th century). That means that the castle, if there was ever one there, was not in use during that period. It must have been older, probably from the Late-Byzantine period.
---
Sources
Your comments:
Google search inside the site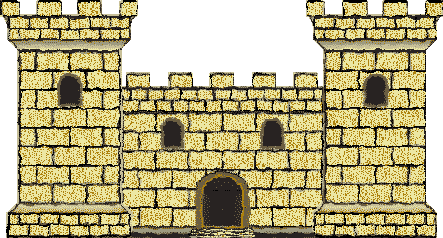 Access
Approach to the monument:
The building is at the center of the village which is around 20km from the city of Rhodes
Entrance:
Free access