Gomati, Aristotelis, Chalkidiki,Athos
Tower of Orfanos
or

Tower of Gomati

or

of Agios Athanassios
Location:
At the slopes of a low hill 4km west of the village Gomati in Chalkidiki
Region > Prefecture:
Athos
Chalkidiki
Municipality > Town:
City of Aristotelis
• Gomati
Altitude:
Elevation ≈ 215 m&nbsp
(Relative Height≈40 m)
| | | |
| --- | --- | --- |
| Time of Construction | | Origin |
| probably 14th cent. | | Late-BYZANTINE |
| Castle Type | | Condition |
| Tower | | In Ruins |
Ruins of a tower at the old Gomati. It was one of the towers that protected the dependencies of the monasteries of Athos in Chalkidiki.
---
History
Gomati is a village in northwestern Chalkidiki, 9km west of Ierissos. The village was transferred into this position in 1932, when an earthquake destroyed completely the old village.
Old Gomati was 4km to the west, at the slopes of the hill Païvouni which is part of the Kakavos mountain. The tower of Orphanos was there and, from a distance, is the only visible remain of Old Gomati.
The old Gomati was inside the territory of a dependency of Athos monastic community. The name of the dependency was "Kamena" as it is mentioned in Athos documents since the 10th century. Later, a settlement was formed there which in the 14th century was referred as "Gomatou".
After 1400, Gomatou and its land belonged to the monastery of Megisti Lavra of Athos. The tower was built around that period or a little before, i.e. in the 14th century like the majority of the 70+ towers that existed in the Chalkidiki peninsula for the protection of monastic lands.
---
Structure, Fortification & Buildings
The tower is ruined. Most probably, the main cause for its condition was the devastating earthquake of 1932.
Its dimensions are ca. 7✖6m. The maximum height of the preserved parts reach 7m. Initially, it was a 3-storey building with a height around 10m.
At the middle of the relatively better preserved west wall there is a 1.5m opening which was the entrance. In this type of towers, the entrance was 5-6m elevated from the ground. The towers were accessed through a folding ladder.
The original form of the tower must have been very similar to the tower of Sani.
drawing of the similar Sani tower (Androudis)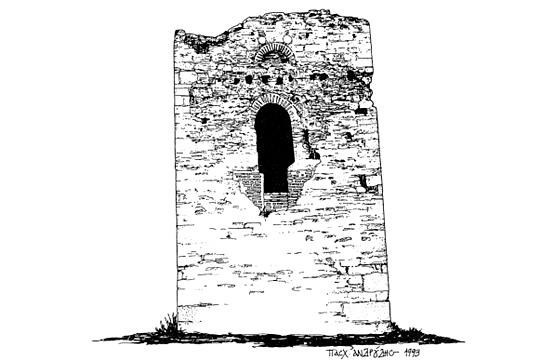 ---
Sources
Your comments:
Google search inside the site
Access
Approach to the monument:
Entering Gomati from west, turn left in the village and again left into a dirt road which after 4km leads to the small chapel of Agios Nikolaos. The tower is at the opposite slope, accessible through a difficult path
Entrance:
Free access